August 13, 2018 11:02 pm
Leave your thoughts
THE FINGER OF GOD IN THE AUGUST 11th SOLAR ECLIPSE:
"Welcome Our New Fembot Overlords…"…. For the tech-allergics: Bot = 'A bot (short for "robot") is an automated program that runs over the Internet. Some bots run automatically, while others only execute commands when they receive specific input.'
"From digital helpmates like Siri to computer-generated Instagram models like Lil Miquela, feminized tech is all around us. Are actual human women starting to look a little bit unreal? Episode 2 of our video series."
If you are not in the trend yet, you can catch up: https://www.nytimes.com/2018/07/30/arts/feminized-technology-robots.html?hp&action=click&pgtype=Homepage&clickSource=story-heading&module=photo-spot-region&region=top-news&WT.nav=top-news
Is this the world that you want to exist in? Do you enjoy it? Is this the reality in which you want your children, your family to grow? What can you do and how are the present star configurations assisting you?
(8/13/2018)
Another interesting article in today's news: New York Times: "We are merging with robots; that's a good thing".
https://www.nytimes.com/2018/08/13/opinion/we-are-merging-with-robots-thats-a-good-thing.html?action=click&pgtype=Homepage&clickSource=story-heading&module=opinion-c-col-left-region&region=opinion-c-col-left-region&WT.nav=opinion-c-col-left-region
Yes, technology is amazing and fascinating, changing completely our societies, improving the fate of people with disabilities or diseases considered deadly in the past; "the human genome itself is now an object of control and intervention….Technological devices like cellphones and tablets are being used to help offset types of biological damage, such as a highly impaired memory, that just a few decades ago would have condemned victims to constant care." Human are getting familiar with the multi-dimensional concept through virtual realities.
Now, I do not know if mankind MUST merge with technology and have decided to let go. I have always refused to even consider this option. It is difficult to say if all aliens civilizations are using pure technology or are spiritually advanced and living in realities unfolded within other frequencies. Thus, the capacity to do things that seem miraculous to us.
The August Eclipse:
Without boring you with numbers and technicalities, I will mostly deliver intuitions. Remember that eclipses are portals between the Dragon's head and tail, and ongoing adjustments between the Divine Plan and the Earth/mankind destiny. They are the visible steps of a continuum.
Last year, there was much noise about the Great American Eclipse (August 2017) being connected to the formidable portal of 1999. http://archangel-michael.us/2017/01/05/december-news-2017-overview-astrology-2017-eclipses-february-2017-usa-eclipse-august-2017/
This is when I and many others —thanks to the Web, became familiar with the concept of family eclipses and saros cycles. Jupiter and Saturn were in the Taurus. The super grand cross (multiple squares) in Taurus, Leo, Aquarius and Scorpio were connected to the four evangelists (Mathew/Man; Mark/Leo; Luke/Taurus; John/Eagle, Scorpio).
They are believed to be mentioned in the text of the Apocalypse (4:17): "Around the throne are four living creatures, full of eyes in front and behind.", a description that is connected to the vison of Ezekiel.
In 1999, Jupiter and Saturn were at the beginning of the Taurus and I saw a portal opened in the Cosmos. Personal interpretation: 1999-2017 were the End of Times.
The July 2018 recent eclipse was connected to the 2000 one: new Frequency, the Blue Light is ruling the Earth.  […]
One more step, August 2018. Five retrograde planets: we are feeling the energies of introspection, invited to slow down, ponder, review, reassess and set our wishes, our soul direction for the future.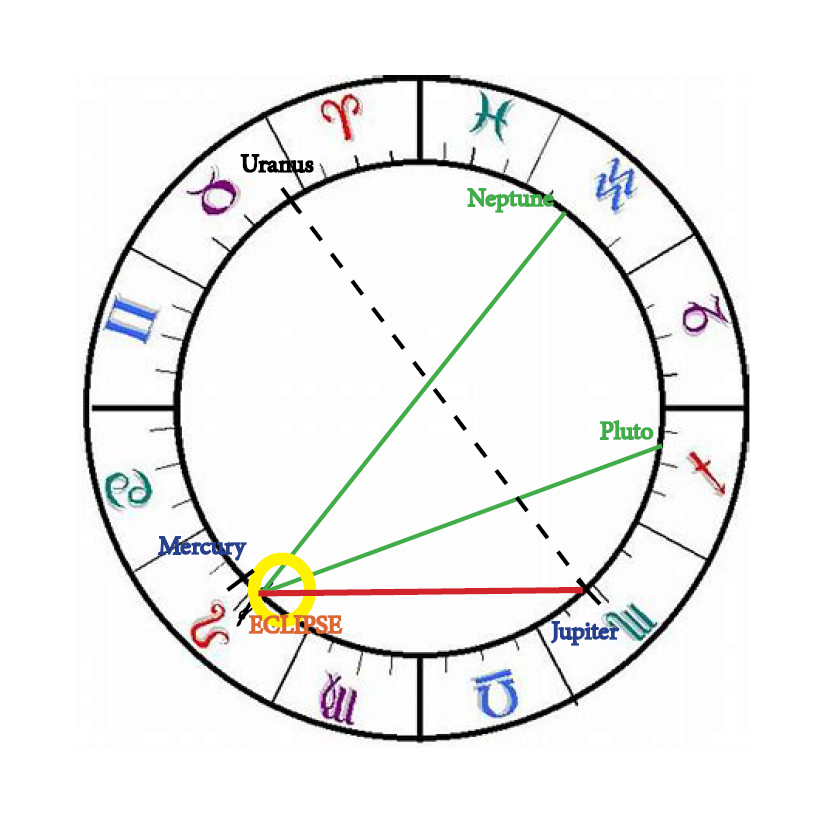 The solar eclipse of August 11th , on the axis Leo-Aquarius,  is conjunct Mercury and Pallas (Wisdom). 3D interpretation: find your true self (leo=soul) or let go of your complex of superiority (Leo=king) exaggerated by Jupiter (Eclipse sa, and work with and for the group (Aquarius). Read the full article:  http://archangel-michael.us/2018/08/11/the-finger-of-god-in-the-august-11th-solar-eclipse/
Categorised in: Articles
This post was written by admin